As an Amazon Associate, we earn from qualifying purchases.
If your weather is anything like ours, you'll find yourself in that strange, unpredictable transition between winter and spring, which means cool temperatures and a lot of rain. Weather like this makes for an ideal time to use your air fryer. And what better way to utilize it than with a lean and tender sirloin steak? We decided to veer away from the traditional steak and potatoes meal and opt instead for air fryer steak and mushrooms with a crisp kale salad perfect for spring.
Options with Air Fryer Steak and Mushrooms
Not only is this air fryer steak and mushrooms entree delicious on its own, but it can also be used alongside other dishes, like a traditional Philly Cheese Steak Sandwich, open-faced steak sandwich, or even your favorite stir fry. Regardless of your preference, this simple recipe can be used to start countless others.
Time Saver
This delicious dish is also fast and easy, which is always a plus, especially after a long workday. From start to finish, this dish takes 10-12 minutes, including prep time. And the best part? It only takes five ingredients: sirloin, mushrooms, steak seasoning, oil, and salt. Can't beat that! Pair with a simple salad or a couple of sides and you have a quick, delicious meal that is also healthy.
From Rare to Well done
| Preparedness | The center should be: | Internal Temperature |
| --- | --- | --- |
| Rare | Coolish red center | 125° F | 52° C |
| Medium Rare | Warmish red center | 135° F | 57° C |
| Medium | Warmish pink center | 145° F | 63° C |
| Medium Well | Slightly pink center | 150° F | 66° C |
| Well Done | No pink or very little | 160° F | 171° C |
Try one of these other great recipes:
Air Fryer Steak and Mushroom
Make a quick steak with mushrooms entree in your air fryer
Keyword:
Air Fryer Steak, Steak and Mushrooms
Ingredients
2

lbs

sirloin strip steak

1

carton

mushrooms

sliced

1

tsp

steak seasoning

(to taste)

1

dash

sea salt

1

tsp

light olive oil
Instructions
Slice mushrooms into thin slices; toss with olive oil and salt; set aside.

Slice sirloin into strips; sprinkle with steak seasoning.

Mix sirloin strips and mushrooms together; place in the air fryer basket.

Cook at 400 ° F | 205 ° C for 6-8 minutes, flipping halfway. (Cook time will depend on your cooked steak preference)

6 minutes for medium-rare to 8 for well-done steaks.
Quickly prepare steak with mushrooms in your air fryer
Tools and ingredients used in this recipe: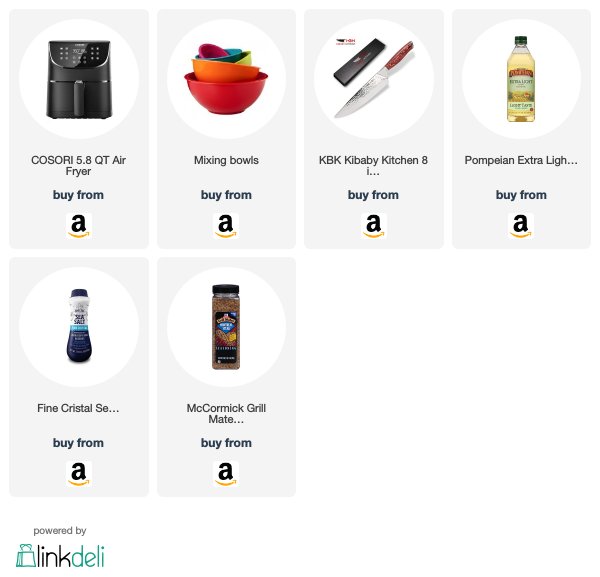 Amazon and the Amazon logo are trademarks of Amazon.com, Inc, or its affiliates.