As an Amazon Associate, we earn from qualifying purchases.
Fun fact: waffle cut fries have different cooking times than curly fries, which have different cooking times than steak fries. Yes, it's weird but true. Oh, the life of a food blogger.
A friend of mine called me and asked how many minutes to air fry steak fries because she couldn't find it on our site. I was surprised as I thought we had completely covered the french fry category. When I realized that wasn't the case, I decided that we needed to do yet another post on the french fry. This incarnation is all about the fabulous steak fries.
Sometimes you want a more potato-y fry so this cut fits the bill. And because they are wider and flatter, they make for a great sauce delivery system. So whether you like dipping them in ketchup, barbecue sauce, mayonnaise (don't judge), a combination of two or more (my current fave is mixing a slightly sweet BBQ sauce with low-fat mayo) or dowsing them with malt vinegar, prepare your steak fries in the air fryer for a perfect accompaniment to any meal.
Try steak fries with one of these delicious air frying recipes:
And if you're looking for one of our other air fryer fries posts, check these out:
Frozen Steak Fries in the air fryer
Keyword:
Air Fried Steak Fries, Air Fryer Steak Fries, Frozen steak fries in the air fryer
Ingredients
Frozen Steak Fry Ingredients
2

servings

frozen steak fries

spritz

avocado oil (or truffle oil)

pinch

salt

to taste (add after spritzing the oil)
Instructions
Frozen Steak Fry Instructions
Preheat your air fryer to 370° F | 187° C for 5 minutes

Add a liner for easier cleanup, although there shouldn't be that much to clean up, except for oil and salt.

Add a single layer of steak fries to your air fryer.

Spritz the steak fries with a tiny bit of oil, and add a pinch of salt. I love truffle oil on these fries for its wonderful flavor, but you can use any high-temperature oil like light olive oil, or avocado oil.

Air fry the steak fries for 370° F | 187° C for 14 minutes, shaking halfway through air frying. If you feel that your fries are not brown or crispy enough, add a few more minutes to your air frying time.
Tools and ingredients for this recipe: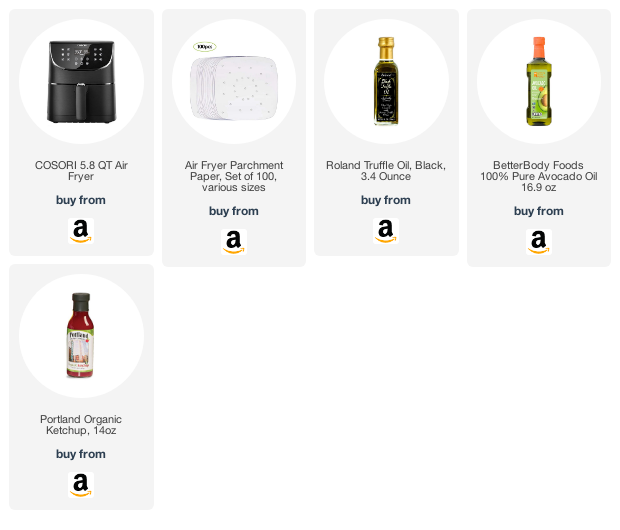 Amazon and the Amazon logo are trademarks of Amazon.com, Inc, or its affiliates.