As an Amazon Associate, we earn from qualifying purchases.
After a long day at work, the last thing most people want to do is cook a complicated dinner that shaves time off those precious few hours that can be spent relaxing with family, helping the kids with homework, or unwinding before bed.
But what if you could make a delicious meal the entire family could enjoy in less than 15 minutes with minimal ingredients?
Forget Taco Tuesday and opt for these simple and delicious air fryer quesadillas.
Easily paired with a healthy side salad, our air fryer quesadillas forego the gobs of butter used by many restaurants while still providing the great flavor and crispy texture most people prefer. Unlike pan-fried quesadillas, preparing this delicious dish requires only a modest coat of olive oil spray, leaving your tortilla light and crisp, rather than dense and soggy.
And the best part? The options these recipes offer are endless, and the process is so easy, even your little ones can get involved.
For instance, if you live with picky eaters who cringe at the thought of peppers or onions, you could opt for a simple chicken and cheese version. Vegetarian? No worries, just nix the chicken and add your favorite veggies (spinach, mushroom, and cheese is my personal favorite). And for low carb or gluten-free dieters, you can opt for the lower carb or gluten-free tortillas, like Mission brand.
This recipe is perfect for busy, on-the-go singles or families who are striving to live a healthy lifestyle. It literally takes 6 minutes per quesadilla, so at two servings per quesadilla, you could feed a family of four in only 12 minutes. Plus, clean up is a snap with a quick wash of the non-stick removable basket.
Try one of these other great air frying recipes:
Air Fryer Chicken and Cheese Quesadilla
Keyword:
Air Fried Quesadilla, Air Fryer quesadilla, Quesadilla in the air fryer
Ingredients
Ingredients
1

package

pre-cooked chicken, pre-cooked shredded, or canned chicken

(All of these options will work, just make sure the chicken is cooked before assembling the quesadilla.)

1

yellow pepper

1

orange pepper

1

yellow onion

1

package

tortilla soft shells

(the largest shells that will fit in your air fryer)
Instructions
Instructions
Slice peppers and dice the onion

Shred chicken, or cut it into small chunks

Spray oil inside the basket of the air fryer

Place one tortilla shell in the air fryer basket

Spread cheese, chicken, onions, and peppers over tortilla shell

Put another tortilla shell on top of ingredients

Cook the quesadilla in the air fryer at 370°F | 165°C for 3 minutes

Flip the quesadilla and cook it at 370°F | 165°C for and additional 3 minutes

Repeat for additional quesadillas
How to make a quesadilla in the air fryer
Tools used in this recipe: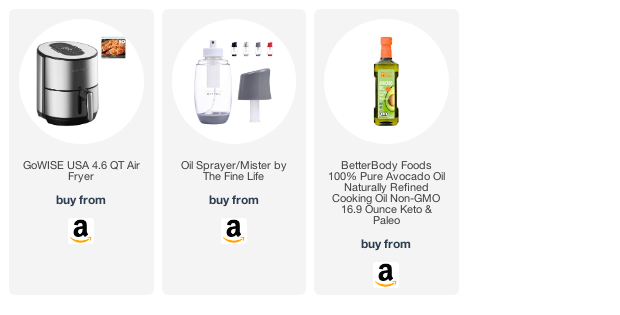 Amazon and the Amazon logo are trademarks of Amazon.com, Inc, or its affiliates.