As an Amazon Associate, we earn from qualifying purchases.
If you're looking to spice up your Taco Tuesdays or prep quick and easy weeknight fajitas, then your air fryer can be your best friend. Rather than hovering over the skillet for twenty minutes, cook your frozen chicken fajita filling in the air fryer.
Chicken Fajita Filling in the Air Fryer is Easy
S I'll admit that it doesn't take that much effort to prep frozen fajita filling on the stovetop. However, unlike cooking frozen fajita filling in a skillet, there is no need to continually check or hover over the stove when your prep the food in an air fryer. Plus, clean up is simple. Just rinse the air fryer basket with hot soapy water, or let the dishwasher do the job for you, rather than having to get your hands dirty.
The Texture is Better in the Air Fryer
The texture of the prepared filling will be better in the air fryer as well. As the chicken and veggies thaw, all the water drops into the bottom of the air fryer, which yields a crisp juicy texture. On the stovetop, the ingredients simmer in that water, leaving your filling much wetter than you'd like it. Whether you're using the filling for tacos or having a fajita night, your family will be pleased with the crisp veggies and evenly cooked chicken filling that doesn't drip liquid all over your hands or plate. There's nothing worse than a soggy taco shell or flour tortilla.
So if you're pressed for time on a busy weeknight, frozen fajita filling in the air fryer is a terrific choice that your family will love.
Try one of these other great air frying recipes:
Air Fried Frozen Fajita Filling
Air fry frozen fajita filling to perfection
Keyword:
air fried fajita filling, Air Fryer Fajita, Fajita in air fryer
Ingredients
Ingredients
1

bag

frozen fajita filling

(Chicken, Peppers, Onions)
Instructions
Fajita Instructions
Preheat your air fryer to 400° F | 204° C for 5 minutes.

Add a liner or spray air fryer basket with oil.

Empty bag of frozen fajita filling in the air fryer basket. If you prefer to make fajitas fresh you can use fresh chicken breast sliced into strips. Cut onions, peppers, and halved cherry tomatoes.

Air fry at 400° F | 204° C for 8 minutes, stirring halfway through.

Use a meat thermometer to make sure that your chicken is at least 165° F | 74° C. If your largest piece of chicken is not at least this temperature, add a few minutes to your cook time.

Serve with Tortillas, and enjoy!
Tools and ingredients used in this recipe: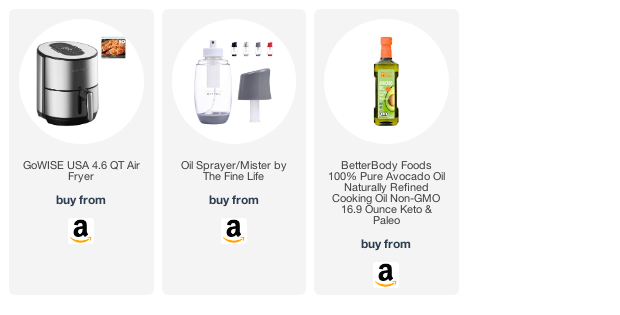 Amazon and the Amazon logo are trademarks of Amazon.com, Inc, or its affiliates.