As an Amazon Associate, we earn from qualifying purchases.
Weekends are a perfect time to bond with your family. Enjoying the time together over some sweet goodies makes it even better! If you're up to making your own dessert, try some delicious air fryer cupcakes that are so easy to make, even your kids can join in on the fun. With just a few ingredients, a few steps, and voila! Heavenly cupcakes in a jiffy.
What you can usually bake in the oven, such as desserts, can also be cooked with ease in an air fryer. Save time and clean-up when you use your air fryer rather than the traditional oven. And in the summer, don't heat up your kitchen by using the oven – keep it cooler by using the air fryer instead. Once you get the hang of using your air fryer for baking, you'll never look back. In just a few minutes, you can have moist and fluffy cupcakes ready to be devoured by your family and friends.
It's definitely recommended that you use reusable baking cups when making cupcakes in your air fryer. I've never used paper liners in the air fryer and I guess some (especially the foiled ones) may work. But using paper liners without a baking tin? I just imagine they would completely open up/spread out and lose their shape, giving you really wide and flat cupcakes (tasty still, I'm sure, but not what we're going for).
As easy as making cupcakes in the air fryer is, it does come with one caveat: the air whipping around inside the air fryer can make for some misshapen cupcakes. At least this has been my experience with the two air fryers I've used to bake cupcakes. Some of the tops get a bit pointy but not in the middle, usually off to the side. But it's easy to work with – for these photos, I just cut a little off the tops to make them more even before frosting. (Tip: I don't have a piping bag or frosting tips, so I put my homemade buttercream frosting in a sandwich bag and cut off one of the bottom corners to apply my frosting.) Or just decorate them as is – no one will complain when they have a tasty cupcake in their mouth. And during December, you could spread on red frosting with a white frosting dot on the top and you've got Santa hat cupcakes (note to self: make Santa hat cupcakes in December).
If you're planning to host a party at home and feeling a bit extra, then try this mouthwatering Air Fryer Chocolate Chip Cookie Cake that doesn't require much effort and time to make.
Air Fryer Cup Cakes
Bake cupcakes in minutes in your air fryer
Keyword:
Air Fried Cupcakes, air fryer cupcakes, Cupcakes in air fryer
Ingredients
Ingredients
cake mix

3

eggs

1/3

cup

vegetable oil

1

cup

water
Instructions
Instructions
Mix cake mix, eggs, vegetable oil, and water until combined.

Fill baking cups 2/3 full.

Place cups directly into the air fryer basket.

Cook at 330° F / 165° C for 11 minutes.

Remove from the air fryer and place the muffins on a baking rack to cool.

Once cool, add frosting and sprinkles as desired and enjoy!
Try one of these other air fryer desserts:
Tools and ingredients used in this recipe: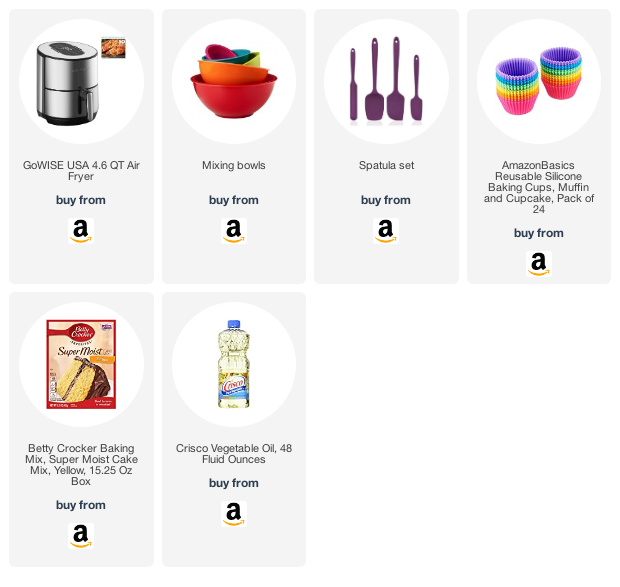 Amazon and the Amazon logo are trademarks of Amazon.com, Inc, or its affiliates.