As an Amazon Associate, we earn from qualifying purchases.
Tired of the same old ho-hum steamed broccoli? Well, we have just the thing for you! Try our delicious and nutritious lemon pepper broccoli cooked to perfection in your very own air fryer.
Broccoli w/ Lemon Pepper is a staple item around our home.
The main problem with broccoli is its texture when it is overcooked. And sadly, when boiled on the stovetop, that's exactly what happens sometimes. Whether your kids interrupt you, you get a phone call, or you are otherwise distracted, busy cooks tend to leave their veggies on the stove for too long.
The result?
Water-logged, mushy broccoli, depleted of nutrients, and sporting a putrid green color.
However, when prepared in your air fryer, the result is a crisp, bright green veggie packed with flavor and nutrients. Be sure to add a sprinkle of salt alongside the lemon pepper for a flavor that goes beyond the blandness of steaming or boiling. If you're after an extra indulgence, you can top off this side with a thin pad of butter.
Other wonderful air frying recipes:
Lemon Pepper Broccoli in the Air Fryer
Keyword:
Air Fried Broccoli, Air Fryer Broccoli, broccoli, vegetable
Ingredients
1

head

fresh broccoli

you can also use frozen

1/2

tsp

lemon pepper seasoning

1

tbsp

olive oil

salt and pepper to taste
Instructions
Preheat your air fryer to 375 ° F | 190 ° C for 5 minutes

Toss the broccoli in olive oil. Add a liner to your pre-heated air fryer basket, and place your broccoli in the basket of your air fryer.

Sprinkle with lemon-pepper seasoning, salt, and pepper (if needed)

Cook at 375 ° F | 190 ° C for 8-12 minutes, shaking the basket at least once as the broccoli air fryer.
Recipe Notes
Online Ingredients:
Tools and ingredients used for this recipe: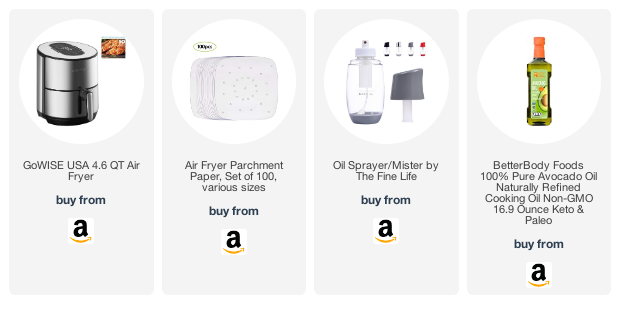 Amazon and the Amazon logo are trademarks of Amazon.com, Inc, or its affiliates.