As an Amazon Associate, we earn from qualifying purchases.
One of my favorite foods to eat with dinner, a bowl of soup or chili, or even just for a snack is cornbread. While it would be nice to break out the seasoned iron skillet and make a whole batch, it's much more convenient to make these quick and delicious air fryer cornbread muffins.
Why Air Fryer Cornbread Muffins?
It's faster and easier!
Whether you like your cornbread basic or with some delicious added ingredients like red and green bell peppers, all you need for your air fryer is your favorite mix, some muffin liners, and an air fryer safe muffin pan. The air fryer's rapid air technology cooks these delicious muffins in a fraction of the time it takes in the skillet or oven.
I've had cornbread just about every way possible, including the oven, an iron skillet, and once during a snowstorm and power outage, even on the propane grill! However, cooking these cornbread muffins in the air fryer is perfect for a quick weeknight side to accompany your dinner.
Try one of these other fine air frying recipes:
Cornbread Muffins
Prepare delicious cornbread with your air fryer
Keyword:
Air Fried Cornbread, air fryer cornbread, Cornbread in the air fryer
Ingredients
Ingredients (makes 24 muffins, half recipe for fewer muffins)
2

cups (heaping)

self-rising white cornmeal

1/4

cup

milk

1/2

cup

green bell pepper

diced

1/2

cup

onion

diced

1

cup

shredded cheddar cheese

1

8 oz can

creamed corn

1/4

cup

vegetable oil
Instructions
Instructions
Mix together all ingredients. Pour into silicone cupcake holders and place them in the air fryer basket. If you have a smaller air fryer, you will have to make multiple batches as this recipe makes 24 muffins.

Cook at 400 ° F | 205 ° C for 12 minutes.

Depending upon your air fryer's capacity, you can make in batches.
Tools and ingredients used for this recipe: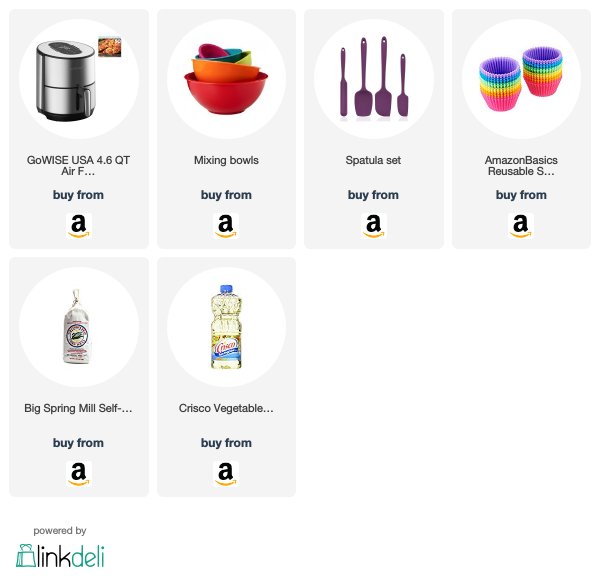 Amazon and the Amazon logo are trademarks of Amazon.com, Inc, or its affiliates.