As an Amazon Associate, we earn from qualifying purchases.
If you're pressed for time on a busy weeknight or activity-packed weekend, it's always nice to open the freezer and cook a meal in only minutes. However, if you grow weary of the typical meal of frozen pizza or chicken tenders, try something different this week.
We really like shrimp, and much to our delight, we were ecstatic when we found frozen pre-battered coconut shrimp(prawns).   Although we could have made an egg wash, and hand-dipped the shrimp in panko and coconut,  you can only do that when the shrimp(prawns) is thawed.   And since we always forget to lay things out ahead of time, we thought that these shrimp(prawns) would suit our needs nicely.
Serve with a delicious citrus sauce or cocktail sauce. These frozen shrimp will be a much welcome change from the norm.
Frozen Shrimp
Keyword:
Air Fried Coconut Shrimp, Air Fried Prawns, Air Fryer Coconut Shrimp, Air Fryer Prawns, Coconut shrimp in the air fryer, Frozen Prawns in the air fryer
Ingredients
Ingredients
1

box

frozen shrimp (or any frozen shrimp, battered, plain, coconut)

(4 shrimp per serving)

1

spray

coconut oil (for coconut shrimp) otherwise, I prefer avocado oil.
Instructions
Frozen shrimp cooking instructions
Spritz the basket of your air fryer with oil

Preheat your air fryer: 390° F | 199° C for 5 minutes. (do NOT add the liner at this time)

Once preheated, place an air fryer liner into the basket. Place frozen shrimp in the basket in a single layer.

Air fry the shrimp/prawns at 390° F | 199° C for 5 minutes. Shake air fryer basket, cook an additional 5 minutes. If the shrimp/prawns are not brown/crispy enough for your liking, add an additional 2 minutes.

Use a food thermometer, shrimp should be heated to 165 ºF | 74 ºC

Serve with either cocktail sauce or citrus sauce. Plate and enjoy!
Recipe Notes
Online Shopping List:
Try one of these other great air frying seafood recipes:
Tools and ingredients used in this recipe: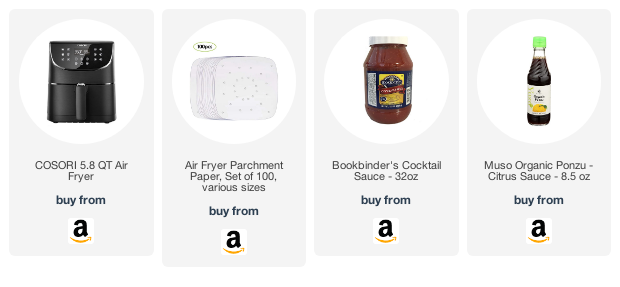 Amazon and the Amazon logo are trademarks of Amazon.com, Inc, or its affiliates.