As an Amazon Associate, we earn from qualifying purchases.
We grew squash while growing up because zucchini is one of my mother's favorites vegetables. She would often stew tomatoes and zucchini together, making it one of the food staples of my childhood. If there was zucchini on the vine, it would be eaten.
One of the keys to a zucchini is to not let it get too big. Zucchini can grow huge and and those huge ones do not make for the best zucchini. For best results, pick them (or choose them from the grocery story or farmers market) when they are cucumber-sized. The smaller sized zucchini will make a more tender and tastier dish. Historically, I learned to prepare zucchini to eat on the stove, but an air fryer is a great tool to prepare any squash to eat.
Slice a smallish zucchini into thin disks – do not peel it beforehand – and you're ready to air fry! You can use your favorite spices or just eat it plain – they are delicious either way.
Try one of these other great air frying veggie recipes:
Air Fried Zucchini
Delicious Air Fryer Zucchini
Keyword:
Air Fried Zucchini, Air Fryer Zucchini, Zucchini in the air fryer
Ingredients
Ingredients
1-2

small

zucchini

slice into thin circles

5-10

sprays

extra light olive oil
Optional Spices (tastes great with or without spices)
Paprika

Onion Powder

Cumin

Chili Powder
Instructions
Instructions
Preheat air fryer to 390°F | 199°C for 5 minutes

Oil the air fryer basket with extra light olive oil.

Place the zucchini in the basket and spritz the slices to help prevent any burning. If you don't have an oil sprayer, you can toss the zucchini slices in a small amount of oil before placing in the basket.

Air fry at 390°F | 199°C for 9 minutes

Shake the basket/mix up the slices half way through cooking. Spritz additional oil on any spots that may be burning.
Recipe Notes
Oil the air fryer pan or use a liner to prevent sticking. I prefer to use extra light olive oil because of its high smoking point to help prevent sticking and over cooking, but oil may not be necessary.
Tools used in this recipe: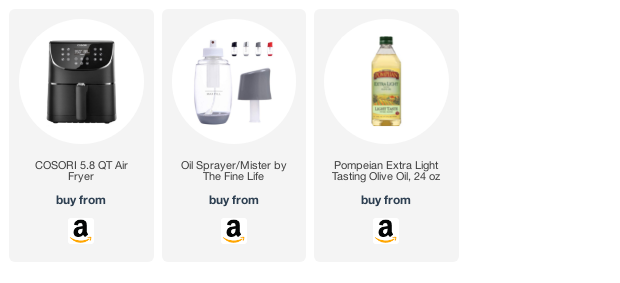 Amazon and the Amazon logo are trademarks of Amazon.com, Inc, or its affiliates.